December 19, Sunday 7 PM
Beyond Baroque
681 Venice Bl. Venice, CA 90291
WILL ALEXANDER and SURREALISTS
JAMES HART III lives in southwest Detroit. Currently he has published two manuscripts: the watchable book by Weightless Language Press (2003) and White Holes by Marick Press (2006). Forthcoming is high-coup by Slack Buddha Press. His work has appeared in Dispatch, volumes 6 (2003) and 7 (2004) Door Jamb Press, Past Tents Press on line anthology, The Cafe Review (ME) summer of 2006. He also has work forthcoming in the M.O.C.A.D journal. He is the director and editor of white print inc, a new avant garde Detroit press dedicated to emerging and unknown writers, amongst well established poets from Detroit and beyond. He curates The Woodward-Line series, a nationally visible venue in its seventh year. In 2001 he corresponded with Jacques Derrida, who expressed great interest in his work.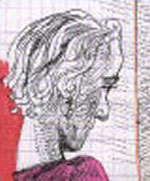 Art by James Hart III
JANICE LEE is a writer, artist, editor and curator. She is interested in the relationships between metaphors of consciousness and theoretical neuroscience, and experimental narrative. Her work can be found in Big Toe Review, Zafusy,  antennae, sidebrow, Action, Yes, Joyland, Luvina, and Black Warrior Review. She is the author of KEROTAKIS (Dog Horn Press, 2010), a multidisciplinary exploration of cyborgs, brains and the stakes of consciousness, and Daughter (Jaded Ibis, Forthcoming). She holds an MFA in Creative Writing from CalArts and currently lives in Los Angeles where she is a co-curator for the feminist reading series Mommy, Mommy!, co-editor of the online journal [out of nothing], and co-founder of the interdisciplinary arts organization Strophe. Please visit www.janicel.com for more information.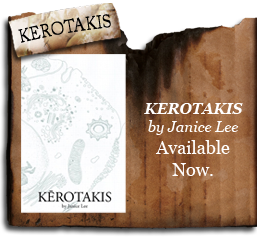 Kerotakis by Janice Lee
ANTHONY SEIDMAN is an author of five collections of poetry and chapbooks, including On Carbon-Dating Hunger (Bitter Oleander Press) and Combustions (March Street). He has published poetry and translations in such journals as Nimrod, Borderlands, Texas Poetry Review and Ur-vox.

Will Alexander
Surrealism:
fumes from aural slate
subversive ringlets
alchemical scorpions
which nourishes danger and salt
at the conundrum of basics
feeding from its crystal
the great stamina of blankness
suspending itself
by breathing ashes and demons
these being
secret waters of glyphs
or an utter kind of glacial lightning
so that the very blindness of being
always empties its fire
into the suckling of asps
-Will Alexander